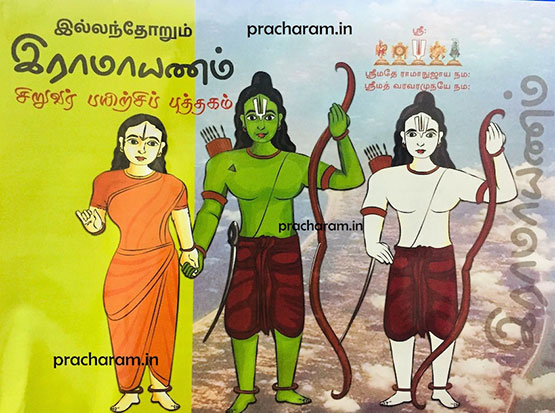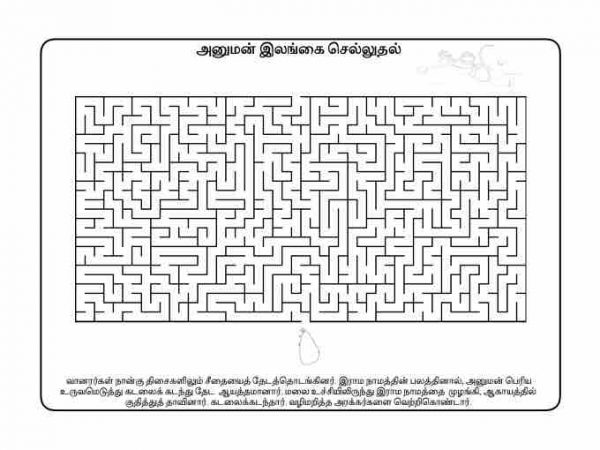 ISBN:
Sri Ramayanam Learning Book
₹50.00
Sri Ramayanam based colouring,. activities, puzzles along with the story lines in Tamil.
Product Details
Language: Tamil
Paper: B/W| Map Litho
No. of Pages: 20 (including cover)
ISBN: 978-81-936916-4-9
Book Code: ACTVT-T007
Weight: 0.056kg
Dimensions: 28 x 21.5 x 0.3
Notes :
If you have any queries, please contact us on Whatsapp +91-9655219245 or Email do@pracharam.in
Related products
₹

599.00
Andal Anubhavam – Margazhi devotional experience for Children
Learning kit with thematic story, activity books & hand-picked tools to introduce the taste of Bhakthi to your Children.
₹

249.00
2 copies of the story book with 2 free Andal facemasks & free shipping
Illustrated story book(available in Tamil & English separately) to teach the importance of Naamasankirtanam to Children.
Sri Varaha avatar, Nampaaduvaan story (known as Kaisika Maahaathmiyam), Periyazhwar & Andal stories illustrated in traditional Temple mural art styles.
Product Details:
Colour: Multi Color
No. of Pages: 36 (including cover)
ISBN: 978-81-956683-1-1
Book Code : PRM-COM-STORY-E-002
Weight: 0.2 kg
Dimensions: 21.5 x 14.5 x 0.3 cm
₹

99.00
Illustrated children book in Tamil covering the inspiring story of Sri Rama Bhaktha Hanuman. The lessons and values that children can imbibe from Anjaneya's life story are highlighted in this book. The thematic activities given in the book deliver a mindful engagement for the kids and parents.
ஹநுமான் – பலமும் பணிவும் நிறைந்த இராமபக்தனின் கதை: ஶ்ரீ இராமாயணத்தில் சொல்லப்பட்டுள்ள ஆஞ்சநேயனின் விறுவிறுப்பான கதையை, இளம் தலைமுறைக்கு அறிமுகப்படுத்துவதே இப்புத்தகத்தின் நோக்கம். குழந்தைகள் ஹநுமானிடம் இருந்து கற்க வேண்டிய நற்குணங்களை இப்புத்தகத்தில் கதையோடு சேர்த்து ஆங்காங்கு எடுத்துக்காட்டியுள்ளோம். பரபரப்பான வாழ்க்கை முறையும் போட்டிகளும் மிகுந்த இன்றைய உலகில், எதிர்வரும் சவால்களை திறமையாகக் கையாண்டு வெற்றி காண்பதற்கு, இராம பக்தரான ஹநுமானின் கதை ஒரு சிறந்த வழிகாட்டி ஆகும். ஹநுமானை முன்னுதாரணமாகக் கொண்டு நல்ல பக்தர்களாக குழந்தைகள் வளர இப்புத்தகம் உதவும்.
Language: Tamil
Paper: Colour | Art Paper
No. of Pages: 36 (including cover)
ISBN: 978-81-956683-8-0
Book Code: PRM-STORY-T-004
Weight: 0.08 kg
Dimensions: 25 x 14 x 0.5 cm