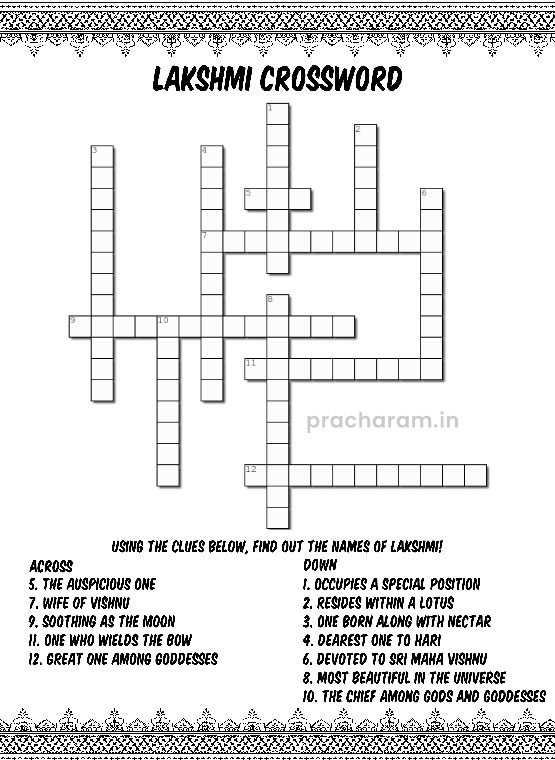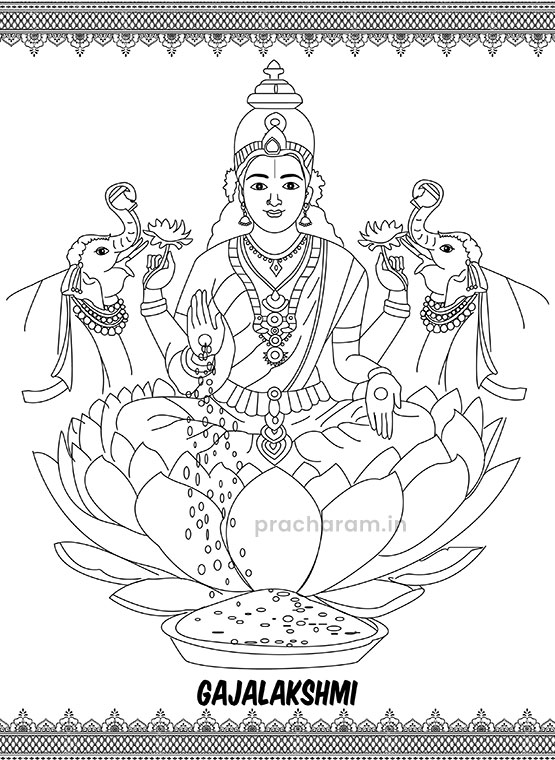 Ashtalakshmi Activity Book
₹50.00
Sri Mahalakshmi thematic activity book for Children with colouring, puzzles, scrambles, quiz, Slokas & other interesting exercises. Ideal gift to Children for family occasions and gatherings.
Product Details
Language: English
Paper: B/W | Map Litho
No. of Pages: 20 (including cover)
ISBN: 978-81-936916-6-3
Book Code: ACTVT-E009
Weight: 0.055 kg
Dimensions: 28 x 21.5 x 0.3 cm
If you have any queries, please contact us on Whatsapp +91-9655219245 or Email do@pracharam.in
Related products
₹

249.00
2 copies of the story book with 2 free Andal facemasks & free shipping
Illustrated story book(available in Tamil & English separately) to teach the importance of Naamasankirtanam to Children.
Sri Varaha avatar, Nampaaduvaan story (known as Kaisika Maahaathmiyam), Periyazhwar & Andal stories illustrated in traditional Temple mural art styles.
Product Details:
Colour: Multi Color
No. of Pages: 36 (including cover)
ISBN: 978-81-956683-1-1
Book Code : PRM-COM-STORY-H-002
Weight: 0.2 kg
Dimensions: 21.5 x 14.5 x 0.3 cm
₹

130.00
The life and message of Sri Rama needs to be spread across the world, particularly to the young. This "Sri Ramayanam" advanced activity book for kids is an humble attempt towards the same and is packed with a lot of engaging activities – story in two languages (Tamil & English), colouring, puzzles, maze, quiz, map marking and many more. As the story proceeds, the activities may get more challenging engaging thereby facilitating a divine Ramayana experience for your family. Kids will also get to complete a checklist of learning outcomes and a colourful certificate on completing all the activities.
Product Details:
Colour: Black & White
No. of Pages: 40 (including cover)
ISBN: 978-81-956683-7-3
Book Code: PRM-ACTVT-TE-001
Weight: 0.13 kg
Dimensions: 29 x 21 x 0.5 cm
₹

99.00
Andal's Tiruppavai is at once the most simple, and most complex composition. Everyone in the world is aware of Tiruppavai. But, not one person can fully bring out the beauty that lay hidden in the verses of Tiruppavai. We created this activity book to help engage you in a meaningful way. There are a lot of materials available to help you learn the verses of Tiruppavai. Where those booklets stop, this one begins. We have included many activities that will help you pass time by searching Tiruppavai for hidden, special, and esoteric meanings. By spending more time in activities and tasks related to Tiruppavai, it is our intention that each of you will discover and delight in the pastimes of Andal and Lord Krishna. Some of these can be done as individuals, some in groups, and some together as a family. This happiness will then eventually lead to the infinite bliss that is the pinnacle of Sanatana Dharma.
Product Details
Language: English
Paper: B/W | Map Litho
No. of Pages: 36 (including cover)
ISBN: 978-81-936916-7-0
Book Code: ACTVT-E008
Weight: 0.123 kg
Dimensions: 28 x 21.5 x 0.3 cm